Max Raabe and the Palast Orchester - November 13, 2002
Photos by Volker Corell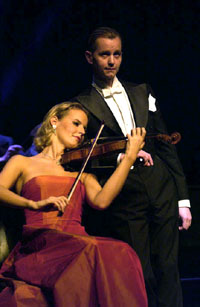 The Los Angeles-Berlin Sister City Committee and Lufthansa hosted a very special event on November 13, 2002 which brought Los Angeles back to the Golden 20's. How? In case you have missed this event, ask Max Raabe and his Palast Orchester.
The Sister City Partnership between Los Angeles and Berlin was established in 1967. Los Angeles is Berlin's oldest sister city. The evening of November 13, 2002 showed how vibrant and alive the relationship between these two great cities is. In the beautiful setting of UCLA's prestigious Royce Hall, over 1200 guests, including the Governing Mayor of Berlin, Klaus Wowereit, the German Consul General, Dr. Hans-Juergen Wendler, as well as officials from Austria, France, Hungary, Spain, Switzerland and the United Kingdom, celebrated the 35th Anniversary of the Sister City Partnership.

It was Rosemarie Reisch, the Chairperson of the Los Angeles-Berlin Sister City Committee, along with members of the Board, including Johannes Fuchs of Lufthansa, who brought this outstanding orchestra to Los Angeles for the first time. The Palast Orchester with its founder Max Raabe amaze both young and old through their interpretation of the good old German "Schlagern" such as "Mein kleiner grüner Kaktus" or "Wochenend und Sonnenschein", as well as American songs. Their performance spelled magic and brought back nostalgic memories with hits from the popular music from the 20's and 30's.

After several encores, the audience had to wake up to reality. However, this event will stay in the memories of all who took the ride in the time machine.