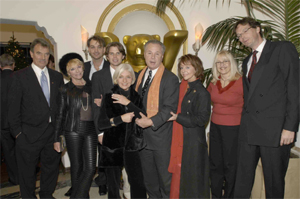 In front of the Berlin Buddy Bear after the "Unveiling"
Photo by Volker Corell
In order to rebuild Afghanistan's educational system, German Broadcasting Company "Deutsche Welle" (DW) and its partner "Cap Anamur", an experienced aid organization, are collecting donations from all over the world to help fund 100 classrooms in Afghanistan.

Initiated by Mrs. Gudrun Wendler, the German Cultural Society (GACS) and its president Eric Braeden as well as the Los Angeles-Berlin Sister City Committee (LABerlin SCC) and its president Rosemarie Reisch, joined in a German-American fundraising effort. To date they have raised funds to build and outfit three classrooms. To support this drive, a fundraising party was held at the home of Mrs. Gudrun Wendler on December 12, 2003, who also, very generously, offered many of her paintings and photos for the Silent Auction. We are very grateful to Mrs. Wendler and the many individuals who have contributed and supported this worthy cause.