Los Angeles – Berlin Sister City Committee Welcomes the New Year - January 2005
Report by Christiane Christiansen, Photos by Ingrid Steinberg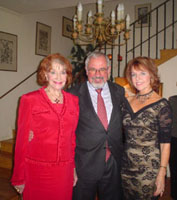 Consul General Dr. Hans J. Wendler
Rosemarie Reisch (R)
Maryon Wollnik (L)
Instead of a Christmas party, the Los Angeles – Berlin Sister City Committee invited members and friends to celebrate the New Year on January 8th , 2005 at the home of chairperson Rosemarie Reisch. Inspite of the pouring rain, the guests came from all over the Los Angeles area to the festively decorated home. They enjoyed a delicious cocktail buffet and greeted old and new friends. Lori Donato played on the concert piano and sang melodies from Berlin and Hollywood.

Rosemarie Reisch welcomed her guests and named some of the events planned for this year. In March, the Committee will support an exhibit by Berlin photographer Juergen Graetz at the Goethe Institut. There will be an opening reception on March 9th . The idea for the exhibit came from Gudrun Wendler, wife of the German Consul General, who is herself an outstanding photographer.

The annual membership meeting is planned for the summer.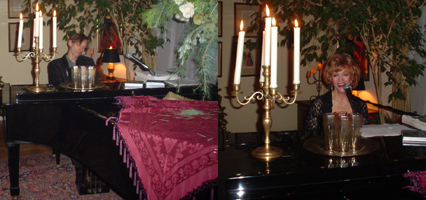 On May 22nd, the City of Los Angeles is planning a "Festival of Sister Cities" in the park of the Page Museum. There will be entertainment throughout the day with 20 sister cities being represented. The Los Angeles - Berlin Sister City Committee is planning a Berlin/Germany Village. Berlin artist Anke Lautenbach will sing and dance. More than a thousand guests are expected to attend. The Festival is open, free of charge, to Angelenos, their friends and guests.
Rosemarie Reisch hopes that the Mayor of Berlin, Klaus Wowereit, will visit the city of Angels in the fall and a Christmas party is planned towards the end of the year.
Smaller events will take place throughout the year and members will be notified in a timely manner.
A special treat awaited the guests on January 8th: The immensely gifted young pianist and composer Victor Alexeeff played pieces by Chopin, Rachmaninoff and as an encore Gershwin's "Rhapsody in Blue". There was not a sound during the performance, but long applause afterwards.

The party proved once again that the Los Angeles - Berlin Sister City Committee, thanks to the hard work and generosity of its chairperson and the board, rewards its members with outstanding events.