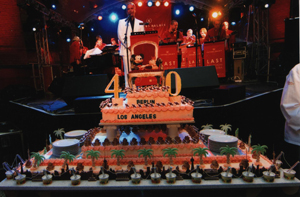 On the occasion of the 40th Anniversary of the sister city partnership between Los Angeles and Berlin, the Governing Mayor of Berlin, Klaus Wowereit, and his delegation visited Los Angeles in March 2007.
In turn, in September, under the guidance of former Governor of California, Gray Davis, Councilman Tom LaBonge and Chairperson Rosemarie Reisch, a Los Angeles delegation of 30 participants came to Berlin to celebrate this special birthday in our sister city.
During the exciting 5 day-stay, everyone enjoyed the phantastic program Berlin and Berlin Partner offered. The days went by very fast. It started with a reception at the Kennedy Museum where many of our Berlin friends enjoyed the exchange with their Angeleno counterpart. The program continued with a boat tour, a visit to the Central Library where Tom LaBonge presented 40 books on Los Angeles to the Director General, a tour of the Reichstag, a visit to the Labyrinth Museum to view photos and drawings created and organized by children of the Wilhelm-Hauff Elementary School and the Invanhoe Elementary School LA as to how they see their daily lives. Our organization donated and planted a tree at the school grounds, a symbol of the friendship between our two cities. The program also included a tour of the Red City Hall with lunch at the Hall of Pillars, a reception organized by former Consul General Dr. Hans Juergen Wendler and his wife Gudrun as well as a visit to a former guard tower where once the Berlin Wall stood.
The highlight was the invitation to the Hoffest extended by the Governing Mayor which included Signing of the Golden Book by the Governor, Councilman Tom LaBonge and Rosemarie Reisch, followed by a spectacular party with thousands of guests from Berlin's economic, cultural, social and art circles attending. The celebrating did not end until 6 a.m.
Again, everyone could feel and see the close friendship that exists between Berlin and Los Angeles. We are grateful to Berlin for their warm hospitality and will not forget this memorable experience.RER