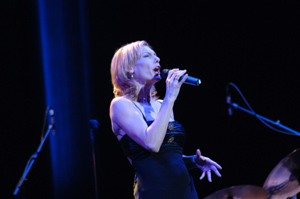 On the occasion of the 40th Anniversary of the sister city partnership between Los Angeles and Berlin, the Los Angeles-Berlin Sister City Committee presented "A Journey from Berlin to Los Angeles" with cabaret and musical star Ute Lemper. Almost 800 guests celebrated this special event together with the Governing Mayor of Berlin, Klaus Wowereit, the Los Angeles Mayor, Antonio Villaraigosa, and German Consul General Dr. Christian Stocks and his wife Christine as well as Councilman Tom LaBonge who is also President of Sister Cities of Los Angeles, Inc.
After Frank Mottek introduced chairperson and event chair Rosemarie Reisch who rendered a brief overview of the history of the sister city partnership and the many projects and programs the Committee has organized and realized during the 40 years of partnership, Rosemarie greeted the many guests among them the guests of honor and numerous representatives of various German institutions and organizations. She thanked the Event Committee Christiane Christiansen, Petra Schuermann and Frank Mottek and expressed her appreciation to everyone who supported and sponsored the celebration, especially Lufthansa, Ernest Herman, Senator Travel and DishNetwork. She emphasized the great fundraising efforts by Consul General Dr. Christian Stocks and his wife who organized three "Berlin Dinner Evenings" at their residence to support our Committee. On stage, both mayors engaged in an animated exchange of experiences and ideas which added to the significance of the evening and further strengthened and reinforced the bond that exists between the two sisters.
Then the poetic journey "From Berlin to Los Angeles", narrated and sung by Ute Lemper, began. She captivated the audience with her brilliant interpretations of songbook standards by Weill, Brecht, Hollaender and other composers and portrayed and pointed out that the angels over Los Angeles and Berlin, although being quite different, ultimately have the same dreams. After a standing ovation, Mayor Antonio Villaraigosa presented Ute with a Proclamation of the City of the Angels prepared by Councilman Tom LaBonge.
At the reception following the performance, the guests were able to meet the artist as well as both mayors. When the memorable evening ended, it appeared as though everyone is looking forward to the next 40 years of a great sister city partnership between Los Angeles and Berlin.