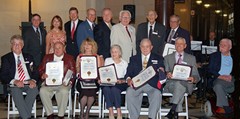 On Thursday, July 31st, 2008 the Photo Exhibit "Friends Always" commemorating the 60th Anniversary of the Berlin Airlift opened with a reception at the Bridge Gallery at Los Angeles City Hall. The reception was jointly sponsored by the German Consulate General in Los Angeles, the City of Los Angeles and the Los Angeles-Berlin Sister City Committee.
The evening marked the beginning of the exhibit depicting one of the greatest humanitarian actions of all times. It was also dedicated to 9 local heroes who participated as pilots during the Berlin Airlift.
On June 24, 1948 the Soviets sealed off access to the 3 Western sectors of the city. In response the US and her allies started flying provisions to West Berlin's resident and thus saved 2 million men, women and children from hunger and cold. On May 12th of the following year the airlift ended after 322 days. The Soviets gave in and reopened the land access to Berlin.
In recognition for their efforts Consul General Dr. Stocks awarded the veterans, or a family member representing them the German-American Friendship Award and a 'thank-you' letter from the Governing Mayor of Berlin, Klaus Wowereit. Council member Tom LaBonge presented them with a Certificate of Recognition from the City of Los Angeles.
After viewing the photographs documenting some of the more than 270 000 flights into Berlin the Los Angeles-Berlin Sister City Committee invited everyone to a delicious German dinner.