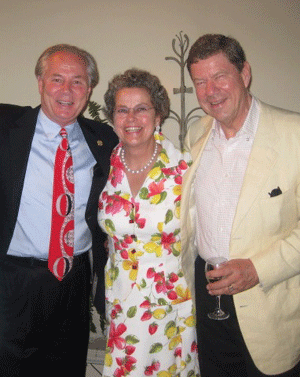 On a balmy summer afternoon on June 27, the members of the Los Angeles-Berlin Sister City Committee (LABSCC) gathered for their annual meeting at the home of their chairperson, Rosemarie Reisch. In her address Rosemarie mentioned the events of the first half of 2009: a reception at the German Club in Santa Monica in honor of 30 police officers from Berlin, who again participated in the Baker to Las Vegas race; the sister cities 'kick off' party on May 7th at the Gilmore Adobe; GACS 'Maifest' on May 18th,which we co-sponsored; the "Sister Cities Cultural Day" at the Grove, and the "Sunset Hike" to the Mt. Hollywood sign on June 18th let by Tom LaBonge.
Silke Hilger, one of the directors of the Wende Museum gave a short description of the celebration on November 8th ,2009 (November 9th in Berlin) in memory of the 20th anniversary of the fall of the Berlin Wall.
The members unanimously re-elected 3 board members: Chairperson Rosemarie Reisch, Michael Wolff, treasurer, and Christiane Christiansen. Stephen Lyle was elected as new member of the board.
The second half of the evening was devoted to the Farewell Reception for Dr. Stocks, who is leaving us to assume the ambassadorship in El Salvador. In their remarks both Dr. Stocks and Rosemarie Reisch emphasized the excellent relationship LABSCC has had with the German Consulate during his four year tenure and the many events they organized together, starting with the 40th anniversary of LA-Berlin in 2007. In order to provide us with additional funds Dr. and Mrs. Stocks hosted 3 dinners as fundraisers in their private residence. Together the consulate and LABSCC organized a reception for the opening of a photo exhibit documenting the Berlin Airlift at the occasion of its 60th anniversary in the Rotunda of Los Angeles City Hall. As our parting gift Rosemarie presented the couple with a beautiful palette shaped cheese platter and brush cheese knife and LABSCC board member Frank Mottek recognized them with the "Best Couple" Oscar.
A delicious buffet and plenty of California wine awaited the guests as they enjoyed the rest of the evening.
We will miss these delightful representatives of Germany in Los Angeles and wish them "Buena Suerte" for their new venture.
Adios, Auf Wiedersehn, Good-Bye