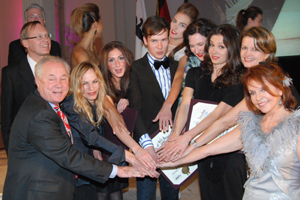 "Hot Fashions from a Cool City" was presented by the Los Angeles-Berlin Sister City Committee. Four young designers from Berlin: Karolina Preis, Jasmin Erbas, Monya Wasilewski, Georg Lux, all graduates of the well-known fashion institute Lette-Verein Berlin, together with Martina Vogt, their former teacher at Lette-Verein, showed their exciting, sometimes even daring collections.
With the cooperation of four major sponsors: Checkpoint Charlie Stiftung Berlin, the German Consulate General in Los Angeles, Berlin Partner GmbH and the Senatskanzlei Berlin as well as many others who contributed,the Los
Angeles- Berlin Sister City was able to organize this ambitious project.
The fashion show took place at the beautiful and majestic Vibiana Cathedral in Downtown LA and enchanted more than 400 guests among them Councilmember Tom LaBonge, Chief of Protocol Elga Sharpe, German Consul General Wolfgang Drautz and his wife Sabine, Turkish Consul General Hakan Tekim and his wife Nasan, and numerous representatives of German-American and other international institutions: Annette Rupp, Director of the Goethe Institut LA, Imogen von Tannenberg, Director of Villa Aurora, Rita Reiff, President of the German-American School Association, Ellen Neu,
President of the German-American League and Michael Metzger, Director of GABA.
Consul General Wolfgang Drautz and Elga Sharpe read greetings from the Governing Mayor of Berlin Klaus Wowereit and LA Mayor Antonio Villaraigosa. As Berlin Mayor Klaus Wowereit wrote in his letter: "Berlin is presented here with the very best it has to offer: its unique creativity."
Karolina Preis launched already her own fashion label which combines elegance and comfort with minimalist style.
Monya Wasilewski and Georg Lux, now residing in Paris, launched their label "Ueber", a collection with the intensity of a flashlight in the night, a mixture of modern and romantic elegance.
Jasmin Erbas, who also worked in Istanbul with Turkish fashion tsar ARZU KAPROL, presented her second collection with her own fashion label "Jasmin Erbas Couture", a combination of classic yet sexy evening wear.
Rosemarie Reisch, event chair, greeted the guests and thanked the sponsors, event committee and board of directors for their support. For almost 45 years it has been the mission of the LA-Berlin Sister City Committee to foster the friendship between both cities by promoting exchanges in many different areas and providing logistical and financial support. We hope that in the near future Los Angeles designers will show their fashions in Berlin and a new creative project will be launched between our two sister cities.
At the receptions preceding and following the show, the designers were able to meet their colleagues, the press - Frank Mottek had already conducted an interview on KNX Radio/1070 earlier - and connect with many of the guests. Inspired by the colorful fashion show, a lively exchange of impressions and new ideas took place.
We expect that this event will further strengthen a very active partnership between our two
cities.