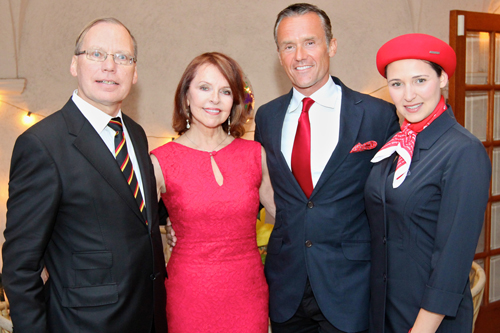 On May 14th, the Los Angeles-Berlin Sister City Committee and more than 100 guests from all walks of life marked the 45th Anniversary of the partnership between LA and Berlin with a celebration.
At the cocktail party preceding the dinner, chair Rosemarie Reisch thanked Consul General Wolfgang and Mrs. Sabine Drautz for making their beautiful residence available for everyone to share this special event. She acknowledged the Board of Directors, the numerous leaders of German-American institutions and the Consular Corps and briefly referred to the many programs and exchanges that took place as well as to the fact that what Mayor Samuel Yorty, former Mayor of LA, and Heinrich Albertz, his Berlin counterpart, started 45 years ago has since become a stable transatlantic bridge. She pointed out the drastic changes that occurred after the fall of the Berlin wall and how it affected the funding of new projects since West Berlin had been a very generous sister up to then, but emphasized that the sister city committee continues to develop new concepts and ideas to keep moving forward.
During the sit-down dinner, everyone was able to mingle, meet, greet and reflect while another significant celebration took place. Among the invited guests were VIPs of the airline airberlin who had come to Los Angeles to launch the first ever nonstop service to Berlin, which will even further promote the exchange between our two vital cities. On the occasion of these two significant events, airberlin donated two roundtrip tickets to Berlin that were raffled off and the prize was handed over to the lucky winner by a uniformed airberlin flight attendant. A special touch, which was highly appreciated by everyone.
The evening ended late with many looking forward to the 50th anniversary celebration.