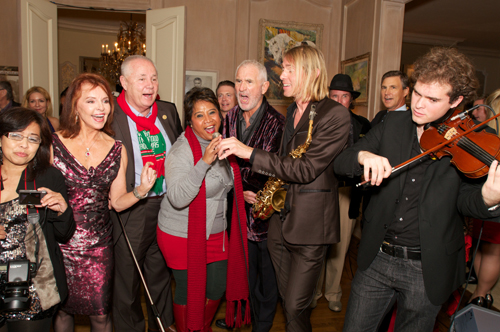 This time at the annual Holiday Party organized by our organization, guests were transferred into a magical winter wonderland. Prince Frederic and Princess Zsa Zsa Gabor graciously made their beautiful Bel Air estate available to us and transformed it into a winter fairy tale with 180 guests from all walks of life attending among them German Consul General Dr. Bernd Fischer and Mrs. Jutta Fischer, Councilman Tom LaBonge with Kamilla Blanche, Austrian Consul General Dr.Karin Proidl, French Consul General Axel Crueaux and his wife as well as numerous personalities from the film and
corporate world. Guest were walking the Red Carpet surrounded by real
snow and a beautiful Christmas tree with palm trees glistening in the
background.

Consul General Dr. Bernd Fischer, Councilman Tom LaBonge, Prince
Frederic, Frank Mottek and Rosemarie Reisch greeted everyone reflecting and looking
forward to new projects we are planning in 2013, possibly a filmmaker exchange
between our two cities.

Reinhold Schwarzwald, saxophone, Patrice Rushen, piano and Kevin
Schwarzwald, violin, exquisite musicians, entertained the diverse and
colorful group of guests with everyone singing along "White Christmas".

Guests sipping fine champagne mingled and enjoyed themselves, the holiday treats on every table, the Gulasch and Spaetzle buffet with the sea of lights of LA providing a magnificent backdrop.

This was a great start of the holiday season. Some guests could not even resist throwing snowballs at each other. Where would you find this
setting in LA except in the world of movies or fairy tales!