EVENTS 2000
1992 to 1998 - 1999 - 2000 - 2001 - 2002 - 2003 - 2004 - 2005 - 2006
Annual Membership Meeting - May 20, 2000
Recording artist NILS presented a Solo Guitar Performance for our pleasure.
"Kurt Weill Evening" - June 11, 2000
A Reception followed the performance.
Delegation "Los Angeles Salutes Berlin" - July 1-5, 2000
A delegation of the Los Angeles Berlin Sister City Committee, under the guidance of Tom LaBonge,
traveled to Berlin and received a warm welcome.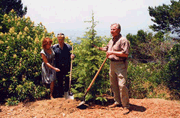 A Tree for Edith - August 2000
A tree was planted at the Berlin Forest at Griffith Park in memory of Dr. Edith Potter. >>read more



The Sister City Committee supported the First German Film Festival at the Laemmle Music Hall in Beverly Hills - November 3-9, 2000
Organized by the Export Union of German Cinema.
An "Evening with Marlene Dietrich" - November 8, 2000
Co-sponsored with Berlin Tourismus Marketing GmbH.
Annual Christmas Party - December 10, 2000