EVENTS 2003
1992 to 1998 - 1999 - 2000 - 2001 - 2002 - 2003 - 2004 - 2005 - 2006
A Comparative Evaluation of the Cultural, Political, and Financial Situation of Three German Cities: Berlin - Frankfurt/Oder - Freiburg i. Br. - March 13th - March 23rd 2003:
A group of 8 Claremont German students spent 10 days in Germany to analyze the similarities and differences of three very unique German cities: The German capital Berlin (and sister city of Los Angeles), Frankfurt/Oder and Freiburg i. Br. They conducted interviews, attended talks and lectures, visited museums, attended performances and engaged in informal conversations. The results of the projects were documented through writing, taping and photography, and then presented to the Claremont Colleges in a public setting. They were supported by the Pomona College, Scripps College and with a matching grant from the Los Angeles-Berlin Sister City Committee. Roswitha Burwick, Scripps College.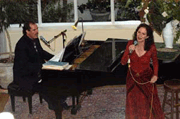 Anne Kerry Ford, Vocalist
John Boswell, Pianist
"From Berlin to Hollywood" - May 2003
On May 18, 2003, the Los Angeles-Berlin Sister City Committee celebrated the cordial relations between Los Angeles and Berlin with a musical journey "From Berlin to Hollywood." A diverse group, among them the German Consul General Dr. Hans- Jürgen Wendler, the Spanish Consul General Jose Luis Dicenta and the German Deputy Consul General Josef Beck, as well as many supporters of music and the arts attended this special event. The guests enjoyed cabaret music with songs from the 30's and 40's by the likes of Kurt Weill and Irving Berlin sung and narrated by Broadway singer Anne Kerry Ford accompanied by John Boswell, piano. >>read more

"Annual General Membership Meeting 2003" at the Goethe Institut - June 2003
On June 16, 2003, the Annual General Membership Meeting of the Los Angeles-Berlin Sister City Committee was held at the Goethe Institut Los Angeles. After the luncheon, important topics and past, present and upcoming projects and events were discussed. Following the open discussion, a video film of Max Raabe and the Palace Orchestra from Berlin, who performed on November 11, 2002, at Royce Hall, UCLA, was shown. The concert took place on the occasion of the 35th Anniversary of the sister city partnership between Los Angeles and Berlin. The meeting ended at 2:30 p.m.
Study Abroad Program - June to July 2003
Twenty students from Long Beach City College participated in a Study Abroad Program in Berlin where they enrolled in German language und culture courses at Did-Deutsch Institute in Berlin-Mitte. The Los Angeles-Berlin Sister City Committee assisted the group in making contacts in Berlin and, through Thomas MacPfeiffer, chair of Chance 2001, and his team they were able to meet and have an exchange with Berliners from all walks of life. Chance 2001 arranged for them to enjoy a fabulous sunrise breakfast, a summer festival, a guided boat tour on the Spree river and a Fourth of July party on American Army terrain to celebrate their national holiday in the company of American and German nationals. The program was a huge success. So far, two students have gone back to stay one year in Germany.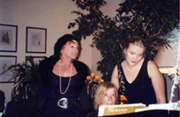 "Los Angeles-Berlin Sister City Committee Celebrates the Holiday Season" Private Residence - December 2003
It was beginning to look a lot like Christmas at the home of Rosemarie Reisch. On December 6, 2003, she invited the members and friends of the Los Angeles-Berlin Sister City Committee to celebrate the holiday season together. Walking through the lights in the garden and upon entering the festively decorated house with the beautiful Christmas tree and the many tables decorated with orchids and spruce, the guests began to feel the magic and the spirit of Christmas instantly. >>read more


"100 Classrooms for Afghanistan" - December 2003
In order to rebuild Afghanistan's educational system, German Broadcasting Company "Deutsche Welle" (DW) and its partner "Cap Anamur", an experienced aid organization, are collecting donations from all over the world to help fund 100 classrooms in Afghanistan. >>read more