This evening, although not connected with Berlin, turned out to be magical. Viennese pianist Maria Prinz rendered a splendid performance on the occasion of Mozart's 250th birthday. The Los Angeles-Berlin Sister City Committee co-sponsored this event together with the Austrian-American Council West under the patronage of Austrian Consul General Martin Weiss and German Consul General Christian Stocks.
The meeting took place at the residence of Ernest Herman and was attended by many members and individuals of German-American institutions. Consul General Christian Stocks talked about the meaning and vision of the sister city partnership between these two vibrant cities. An important topic was the upcoming 40th Anniversary of the Los Angeles-Berlin Sister City Committee and the events and programs planned to make 2007 a memorable anniversary year.

SISTER CITIES TRADE CONFERENCE
Davidson Conference Center at USC
September 20 to September 22, 2006
From the Opening Reception at City Hall to the Closing Party at Paramount Studios, the first Sister Cities Trade Conference held at the University of Southern California and sponsored by FedEx turned out to be a great success. The Conference was organized to promote trade investment opportunities and exchanges between Los Angeles and her twenty two sister cities around the world. During the three days of exciting topics and panels ranging from the Future of Entertainment and Technology as well as Global Marketing and Tourism, people from our sister cities got together to learn and exchange
knowledge and experiences. This was a very worthwhile experience and will be a great networking opportunity for everyone attending the next conference in 2007.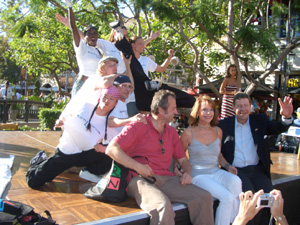 SISTER CITIES DAY
The Grove at Farmer's Market
September 24, 2006 - 12 noon to 7 pm.

This very colorful event, sponsored by Sister Cities of Los Angeles Association and organized by Carolyn Ramsay and Jocelyn Herve, with entertainment throughout the day by the many sister cities, was a great way to promote appreciation, openness and respect for and among the many cultures of the world. Hundreds of visitors flocked to the stage to see and admire the international performances >>read more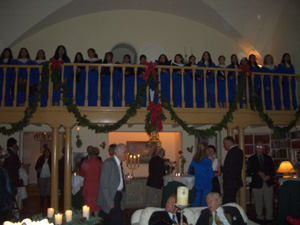 HOLIDAY PARTY 2006
December 10, 2006
We rang in the holidays with our festive Annual Christmas Celebration 2006.
The large diverse group of guests enjoyed the exquisite "Harmonies Girls Choir" under the direction of Antonio Espinal. 21 young people presented songs from around the globe in 4 different languages which created a wonderful and "international" atmosphere. A Holiday Party to be remembered!