SCHOLARSHIP GRANT 2009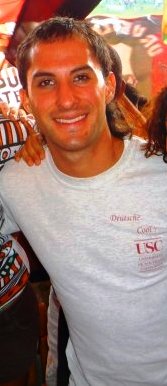 The recipient of this year's stipend is a fifth year undergraduate student from USC.
Daniel Alvarado is studying German and Art History. He has completed his bachelor degree in Art History and intends to complete his German major after his semester in Berlin. He left for Berlin in early September first to take an intensive German course so he can follow the German taught lectures at the Institute for the International Education of Students (IES) as well as the Humboldt Universitaet. He is living in Kreuzberg.
Daniel is a first generation Mexican American. He is the oldest of 4 boys. He is financing his studies at USC with scholarships and financial aid. He has also worked while going to school. He is fluent in Spanish, proficient in Portuguese and so far has conversational German skills.
We consider Daniel a worthy recipient of our grant and look forward to his "Letters from Berlin". While we will be celebrating the 20th anniversary of the fall of the wall on Wilshire Boulevard he will be reporting on the festivities in Berlin.
Christiane Christiansen – Student Exchange/Scholarship

porno frau
WELCOME TO BERLIN POLICE OFFICERS
March 9 at 6:30 pm German-American Club of Santa Monica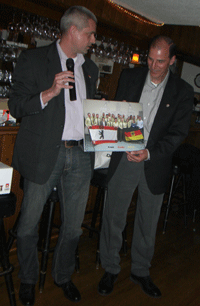 The Berlin delegation of police officers visited Los Angelesfor a few days
and continued to Las Vegas to participate in the traditional Relay Run
from Baker to Las Vegas which was organized by the Los Angeles Police
Revolver and Athletic Association. The Los Angeles-Berlin Sister City
Committee hosted a dinner, German fare, for them where our Berlin friends were joined by a group of officers from the Los Angeles Police and Sheriff Departments, Consul General Dr. Christian Stocks, Councilman Tom LaBonge, President of Sister Cities of Los Angeles, and many members of our organization. It was a great evening for Angelenos to meet and chat with friends from their respective sister city.
>>more
FAREWELL PARTY AND MEMBERSHIP MEETING 2009
June 27, 2009 at 3 pm
On June 27th, the Annual Membership Meeting 2009 took place followed
by a lovely farewell party for Consul General Dr. Christian Stocks
and his wife Christine. >>more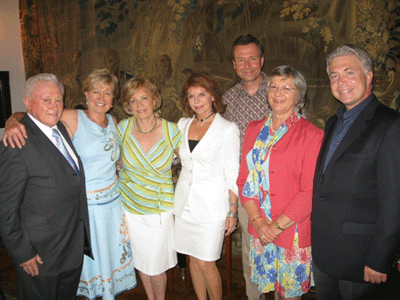 LABSCC Board of Directors 2008/09
20th ANNIVERSARY FALL OF TE WALL COMMEMORATIONS
November 9th, 2009
The weeks before the November 9th Fall of the Wall commemorations were filled with
many advertisements referring to the former East-West division, such as T-Mobile's ad slogan
"Verbinden, ohne Grenze", a few public art exhibitions, such as an outdoor installation on
Alexanderplatz, and not too many other visible preparations. On November 5 there was a U2
concert at Brandenburger Tor (see pictures below) as part of both the MTV European Music
awards and the anniversary commemorations of the fall of the wall. >>more
ANNUAL HOLIDAY CELEBRATON
December 6th, 2009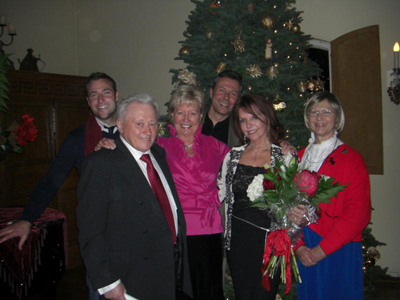 On December 6th, 2009 The Los Angeles - Berlin Sister City Committee hosted its annual holiday celebration in elegant fashion at the tony San Marino home of the organization's chairperson and president, Rosemarie Reisch. Over 80 members and guests enjoyed musical performances by vocalists Cindy Jenkins and Alan Frith-Smith and pianist Lisa Edwards.

The crowd joined in chorus to American and German Christmas carols.
The spirit of the evening was brimming with joy and laughter.
>>more