ANNUAL MEMBERSHIP MEETING
June 5, 2010
Private Residence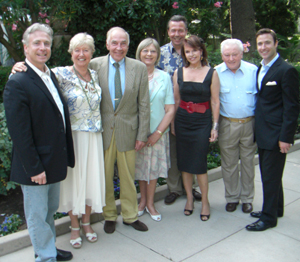 On Saturday June 5th , the Los Angeles Berlin Sister City Committee gathered at the beautiful home of Rosemarie Reisch for the Annual Membership Meeting. As always, it was a perfectly lovely event. A delectable spread of Kaffee and Kuchen was enjoyed, while the members caught up with old friends and made new ones. The well attended crowd sat alfresco under the natural awning of trees in the court yard while piano music filled the air. Rosemarie Reisch updated the membership on the goings-on of the organization over the last year and a new board member, Heinz Niederhoff, was duly elected and welcomed to the board of directors. LABSCC has ambitious plans for the coming year and we look forward to working with our members to make it the most successful yet.
SISTER CITIES OF LA CULTURAL DAY
Berlin Entertainment with Christina Linhardt
June 27 from 1 to 5 PM
The Grove - Farmer's Market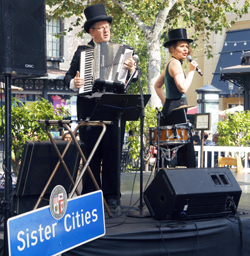 Annual public international event featuring live artists with music, dance and songs.
Many of LA's 21 sister cities participated and brought together the whole world in one afternoon.
Berlin was represented by chanteuse Christina Linhardt and Juggling-one-man-band-Michael "Tuba" Heatherton who delighted the huge audience with sassy Berlin chansons.
A delightful afternoon indeed!
OPENING OF THE BOULEVARD OF THE STARS - Berlin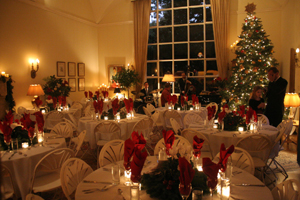 HOLIDAY DINNER PARTY 2010
December 2010
Silent Auction - Proceeds will support "Berlin Runway Fashion Show" - December 12 at 4:30 PM
Entertainment "Gil Gundersen Trio"
Private San Marino Residence
Again, the Annual Holiday Party was a great success. The many guests, among them German Consul General Wolfgang Drautz, Consul Michael Ott,
Press/PR, Councilmember Tom LaBonge, Justinian Jampol, Director of the Wende Museum, Rita Reif, President of the German-American School Ass., Liliane Popov-Alexander, VP of the Austrian-American Council West, and representatives of the Goethe Institut and other German-American institutions enjoyed this special event and the festive atmosphere with
a holiday sit-down dinner, entertainment by the Gil Gundersen Trio and
Elender Wall, singer. read more