For future events, please refer to OF INTEREST
HOLIDAY WONDERLAND PARTY
December 2, 2012 at 5 PM
Bel Air Estate of Prince Frederic von Anhalt and Princess Zsa Zsa Gabor
This time at the annual Holiday Party organized by our organization, guests were transferred into a magical winter wonderland. Prince Frederic and Princess Zsa Zsa Gabor graciously made their beautiful Bel Air estate available to us and transformed it into a winter fairy tale with 180 guests from all walks of life attending among them German Consul General Dr. Bernd Fischer and Mrs. Jutta Fischer, Councilman Tom LaBonge with Kamilla Blanche, Austrian Consul General Dr.Karin Proidl, French Consul General Axel Crueaux and his wife as well as numerous personalities from the film and
corporate world. Guest were walking the Red Carpet surrounded by real
snow and a beautiful Christmas tree with palm trees glistening in the
background. "Read more"
ANNUAL MEMBERSHIP MEETING
November 4, 2012 at 3 PM
Residence of Consul General Dr. Bernd Fischer

Our annual membership meeting was again very successful with quite a turnout of members and friends.
After a lively reception, an overview of past and a schedule of upcoming programs and events was rendered by the chair. The current Board of Directors was presented and the newly elected board member Dr. Silvia Kratzer was welcomed. These meetings are very productive and give everybody a chance to exchange views, make suggestions as to further our
mission of promoting the relationship between our two great cities.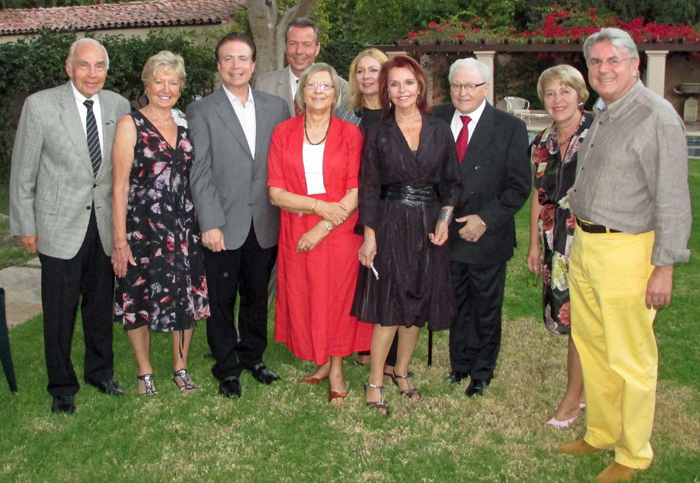 45th ANNIVERSARY CELEBRATION OF THE SISTER CITY PARTNERSHIP
May 14, 2012
6:30 PM - Cocktail Reception
7:30 PM - Berlin Inspired Dinner Buffet
Residence of Consul General Wolfgang Drautz
154 South Hudson Avenue
Los Angeles, CA 90004
Entertainment with "The Gil Gunderson Trio"
Information: 626.792.4611 "Read more"